Make Regular Money With Subscriptions For Excel Workbooks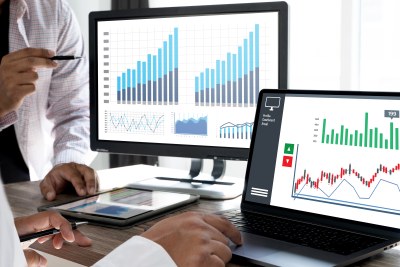 Yes, you can generate regular income from an Excel spreadsheet you designed thanks to subscriptions for Excel workbooks. Regrettably, Excel workbooks were not created for that, they can quickly be changed as well as shared.
But, thanks to XLS Padlock and its security functions, you develop a protected application of your Excel spreadsheet to regulate its use and sharing. Even better, you can charge people for utilizing your Excel spreadsheets. Yes, that is feasible with the powerful online activation features of XLS Padlock.
Now, imagine you want to charge your spreadsheet users on a regular basis. For example, per week, per month… Unless you use spreadsheet online services, this is hardly imaginable with Excel alone. And, yet, it is now possible exclusively with XLS Padlock and our FastSpring subscription kit.
The XLS Padlock FastSpring Subscription Kit is a complete and ready-to-use PHP application to be installed on your website that will bind FastSpring subscriptions to your Excel workbooks protected with XLS Padlock. This lets you automate licensing of your compiled Excel workbooks and earn money regularly through subscriptions.
We even offer this kit for free to all our XLS Padlock customers.
What are subscriptions?
Nowadays, a lot of companies are offering month-to-month or yearly payments plans to their customers. This "subscription" model is really similar to leasing, since the customer pays in order to use the product. Yet, they do not own the software, they may utilize it for a certain period only. When the payment plan ends, the individual can not in fact access the software anymore.
Subscriptions make it possible for you to discover a new level of revenue potential that is consistent. A lot of XLS Padlock customers already use this subscription model. Just follow the trends!
FastSpring, good platform for Excel workbook subscriptions
We chose FastSpring, a full-service ecommerce platform, which includes everything you need to sell software online. FastSpring provides a solid platform with all the necessary tools to manage your subscriptions easily, and collect payments from customers.
You can likewise explore new means of pricing your subscription like limited free trials, usage-based pricing structures and much more.
We have therefore created a complete kit to install on your website. This kit creates a bridge between your Excel sheet applications secured with XLS Padlock and FastSpring's online services.
Set up your own FastSpring subscriptions for Excel workbooks with our guide
Even without advanced programming or web development skills, you can follow the complete step-by-step instructions in our guide to install our FastSpring subscription kit for Excel spreadsheets on your website.
A full step-by-step guide is available
In no time, you will be able to set up your first subscription, link it to your Excel workbook once secured with XLS Padlock.
When customers run the workbook app EXE file, a window appears telling them that it requires an activation.
The activation code is tied to the customer's subscription in FastSpring.
When the customer clicks Activate, the Excel workbook app checks for the validity of the subscription by contacting FastSpring servers.
This ensures that only paid customers with an active subscription may activate your Excel spreadsheet app and access it.
No more problems for refunds or cancelled subscriptions for Excel workbooks
The XLS Padlock FastSpring Subscription Kit handles the validation functionality of XLS Padlock. Configure your spreadsheet app to check the validity of the subscription regularly: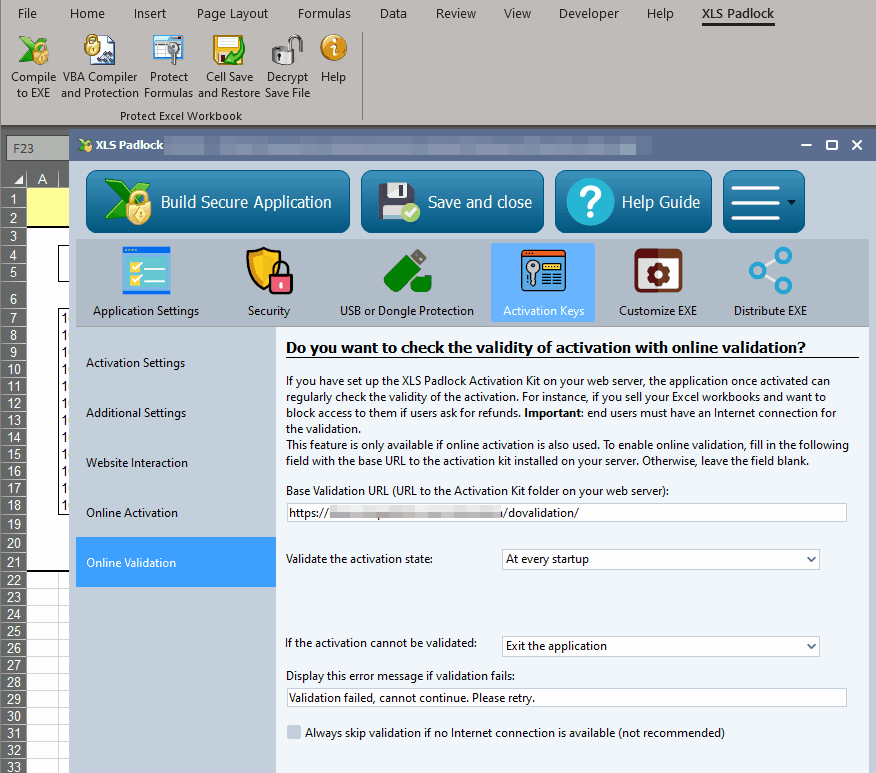 Define when the application should validate the subscription: randomly, every X times or at every startup.
Configure what the application should do if the validation fails. Exit the application, blacklist activation keys or VBA programmers can go further thanks to our XLS Padlock VBA API.
Subscription Validation Primary Goals
since you sell Excel workbooks, some customers may want refunds. You can block access to your workbook to all refunded customers.
you intend to manage who can access your Excel workbooks frequently.
It's easy, XLS Padlock will block access if the subscription's status is different from Activated as you can see below: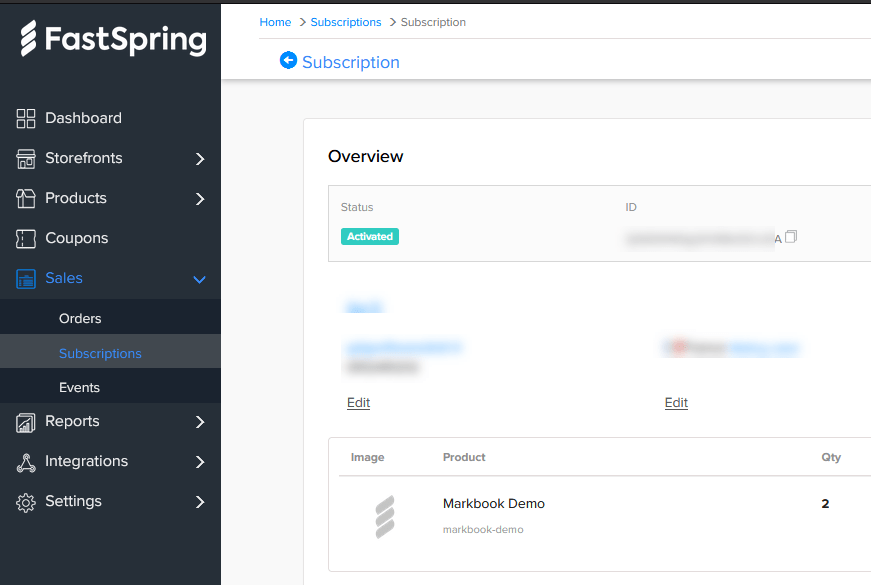 Suppose that the subscription of a customer has expired, then they will get this error: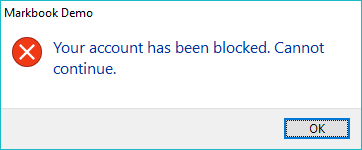 Otherwise, if the subscription is active, the workbook EXE app continues its running as usual.
If you are an XLS Padlock customer, please visit the Downloads for registered users page to download the kit.
Freebie for all customers
A full step-by-step guide is available