Sell Excel workbooks with WooCommerce and manage licenses
Want to sell your Excel workbooks with WooCommerce and without efforts? ⇒ With XLS Padlock, it is possible.
Want to give access to your Excel workbook to some people only and don't want them to share it with others?
⇒ Use your WooCommerce website combined with the XLS Padlock's online activation feature!
How online activation can help you selling more Excel workbooks?
You want to earn money from an Excel workbook you made. Unfortunately, Excel workbooks were not designed for that: they can easily be modified and shared.
With XLS Padlock and its security features, you can create a secure version of your workbook to control its distribution and even implement licensing: you can charge people for using your Excel workbook. This is possible thanks to the online activation feature of XLS Padlock.
Once you created your secure workbook application with XLS Padlock, you can distribute to anyone (even publish it on your own website). A customer will have to activate it by filling in an activation code at startup. Then, the secure workbook application connects to a dedicated web application that checks whether the user has the right to access the workbook or not. If not, the workbook will not open.
For instance, the initial activation screen can look like this:
Did you know?
   Activation can be hardware-locked so that an activated copy of your workbook will only work on the customer's computer. The secured Excel workbook won't open on any other machine, so it becomes useless if it is shared with others.
Manage activations and licenses directly with WooCommerce
WooCommerce is an open-source, completely customizable eCommerce platform available to anyone. You can use it to sell or distribute anything, including Excel workbooks.
All XLS Padlock customers have access to our free XLS Padlock WooCommerce Integration Kit. This kit contains a PHP web application that can work with an existing WooCommerce website. A dedicated step-by-step guide is included. After installation and configuration, everything is automated.
Highlights
Decide on how many computers a user can activate the secure workbook.

Use the WooCommerce Orders section and then Edit order to manage activations of a given order: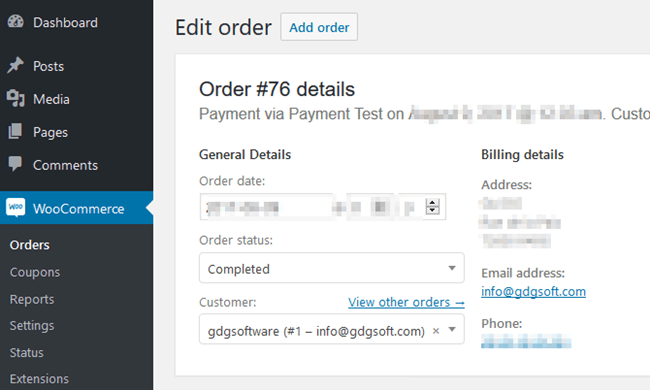 You can then use custom fields to manage activations for a given order (and customer):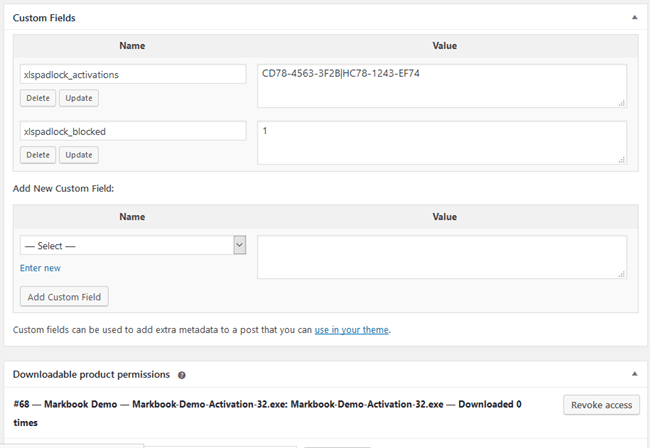 Block activations if your customer for instance asked for a refund.
Control who can activate remotely and regularly, set limitations
The XLS Padlock WooCommerce Integration Kit supports the validation feature of XLS Padlock: you can configure your secure workbook to connect to your WooCommerce website and check the validity of the activation regularly.
Possible uses
you sell Excel workbooks and you want to block access to them if end users ask for refunds.
you want to control who can access Excel workbooks regularly.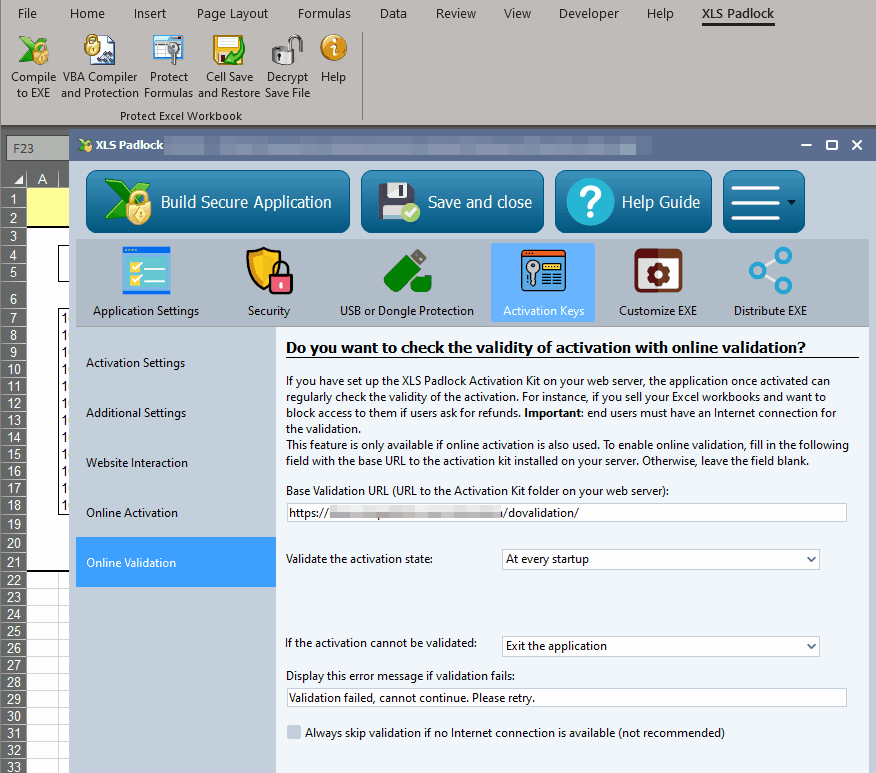 Choose when the application should perform a validation: at every startup, randomly or every X times.
Define what the application should do if the validation fails: exit the application, blacklist activation key or even for VBA programmers, you can use our XLS Padlock VBA API for further customization!
Suppose that you blocked the access of your customers, they will get this error: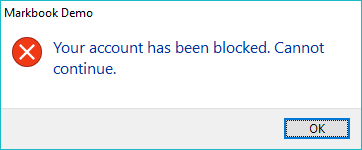 Otherwise, if validation is successful, the compiled workbook EXE continues its execution.
Earn monthly incomes from your Excel workbooks with subscriptions
The XLS Padlock WooCommerce Integration Kit also offers support for subscriptions. If you have the WooCommerce Subscriptions plug-in, you can tie your Excel workbooks compiled with XLS Padlock to subscriptions.
In order to access your workbooks, customers would require an active subscription and pay you each month for instance. Subscriptions for Excel workbooks is now possible with XLS Padlock and even easy to implement.
If you do not have WooCommerce and still want to use the subscription model, we also offer a subscription kit that does not require any paid addon and is a pure PHP solution that will work on almost any web server. Take a look at our FastSpring Subscription Kit.