Online Activation: control who can use your Excel workbook
Want to offer a free trial of your workbook to your future customers and collect email addresses at least? ⇒ With XLS Padlock, it is possible.
Want to give access to your Excel workbook to some people only and don't want them to share it with others? Sell licenses for your Excel spreadsheets?
⇒ Using online activation with hardware-locking is one solution
The other one is dongle protection or USB stick locking
How does online activation work?
To open your Excel workbook, a customer will have to activate it by filling in an optional registration form at startup. Then, registration form data is sent to a dedicated web application that checks whether the user has the right to access the workbook or not. If not, the workbook will not open.
For instance, the registration form can look like this:
Activation can be hardware-locked so that an activated copy of your workbook will only work on the customer's computer. The secured Excel workbook won't open on any other machine, so it becomes useless if it is shared with others.
Create your own registration forms
Create registration forms for your applications: the online activation dialog box can be customized at will: basic HTML text can be displayed (you can use HTML tags such as <B></B> and so on), links and even form fields. Customers must fill in the form before accessing the secure workbook.
XLS Padlock comes with a handy HTML editor to configure the dialog box and create form fields:
Your own web application to process activation requests
Registration form data is handled by your own web application installed on your web server, thanks to the XLS Padlock Activation Kit provided to our customers for free. This package contains a basic PHP web application that receives data from the secure workbook, generates appropriate activation keys and sends them back to the application. Thus, everything is automated. A dedicated user guide is included too. This web application can be enhanced and customized at will.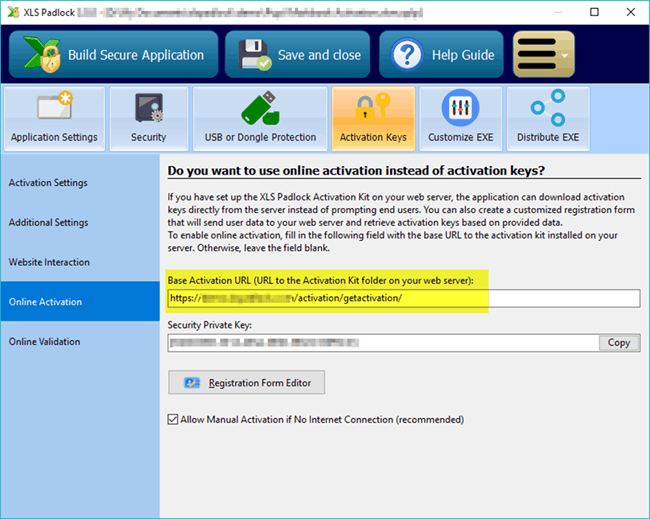 Integration with WooCommerce
For XLS Padlock customers who don't want to deal with PHP, we also offer a WooCommerce Integration Kit: directly manage activations from the WooCommerce admin interface. Decide how many activations are allowed, manage existing activations and orders, block access in case of refunds, sell your Excel workbooks and earn money… Discover the dedicated page for selling Excel workbooks with WooCommerce.
Validate activation regularly
Online validation offers remote control over activation: if you have set up the XLS Padlock Activation Kit or the XLS Padlock WooCommerce Integration Kit on your web server, the application once activated can regularly check the validity of the activation.
Possible uses
you sell Excel workbooks and you want to block access to them if end users ask for refunds.
you want to control who can access Excel workbooks regularly.
Configure activation keys automatically and remotely, set limitations
The Web application responsible for collecting activation requests is the same that will generate activation keys. Thus, you can configure the web application to generate activation keys with different properties: should the workbook expire after 6 months and require a new activation? should we display a nag screen because it is a trial workbook? All limitation features offered by XLS Padlock are still possible with online activation and you have the control over them directly from your web server, that is without rebuilding the secure EXE file.
Test a working demo online