We released a major update for our Excel workbook licensing and protection software: XLS Padlock 2022 is finally available for download for all. We hope you will enjoy this new release.
What's new in XLS Padlock 2022
New Web Update feature: Check for updates
XLS Padlock now allows you to include a Web Update function to your compiled Excel workbook applications. When customers launch your application, a regular new version check can be done (it is even possible to trigger it manually with "Check for Updates" as shown below).
In case a new version is available, the application can instantly download the updated EXE file from your web hosting supplier or web server, and also securely install it. This enables customers to constantly stick with the latest version of your Excel workbook easily.
Improved UI and dialog boxes for compiled workbooks
For instance, the Welcome screen step now looks like this:
The "load last save" option was replaced by the new "load a recent save" one. By clicking it, a menu is displayed with all recent saves made by customers. If a save file is not found, it is not displayed (no more "Last file not found" error).
Another new option is also available: "allow enter activation key on welcome screen". This lets your customers easily enter a new activation key (very useful in case of time-limited keys).
The "Enter activation key" dialog box looks this now:
Dongle locking and remote update
We added support for the EnkyCT dongle model. This dongle model offers you the possibility to remotely upgrade the dongles already provided to your customers. For instance, you can extend restrictions: set a new expiration date or usage count. Customers do not have to send you their dongles physically for upgrading them.
New security features
New security option: Remove "Enable fill handle and cell drag-and-drop" function.
Better error message if validation fails (with the possibility to enter a new activation key, for instance in case of offline mode):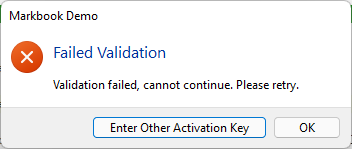 The application now verifies that an activation token is provided before contacting the activation server.
New advanced option: "Disable Overwrite Prompt in the Save As dialog box".
Fixed random crash on some Excel versions when DDE was disabled.
Optimization and lots of improvements
Improved code signing utility and new default time-stamp servers used.
Code signing is no more performed if the PFX file does not exist.
CTRL+S shortcut is now enabled in secure workbook applications.
Default brotli compression (dropped LZMA) for improved speed.
Optimized workbook loading (increased speed).
Full compatibility with Excel 2021.
Full compatibility with Windows 11.
Upgraded VBA script engine.
Upgraded internal workbook handling engine.
SVG support for splash screens.
SIL language files were updated. If you use custom language files, be sure to compare them with new language files to find out new strings to be translated.
Improved restoration of XLSCE data files.
Fixed some alignment problems on high DPI screens.
Fixed "Clear Activation Data" did not work in some cases.
Updated documentation, and new VBA code samples are available too. Retrieve the activation token with VBA, retrieving subscription/licence information with VBA.
Minor improvements.
Please also refer to these news posts for important information: